Area Information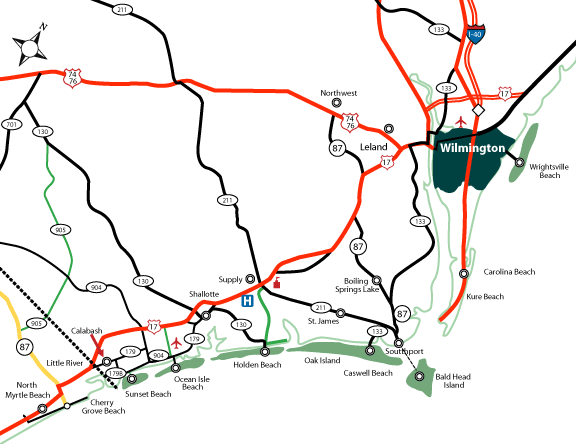 Index
State Population: 9.67 Million (2010)
Percent Change from 2006-2011 Census: 9%
North Carolina Links
Brunswick County
Population: 110,140 (2011 Estimate)
Percent Increase from 2006 t0 2011 census: 15%

Brunswick County Links:
Schools
Charter Schools
Healthcare
Long-term nursing care is available in several area facilities, as are in-home medical assistance and adult day care. Assisted living is also available. These facilities allow individuals who need minimal assistance to continue to live as independently as possible, maintaining their privacy, while receiving supportive, quality care. Physician and medical services are available, along with laundry services, cultural, religious and recreational activities.
Care and counseling for the terminally ill and their families are provided by Lower Cape Fear Hospice which has served the area since 1980. Hospice also operates a live-in center in nearby Wilmington, which serves those in the region who are not able to have care provided in their homes.
There are additional regional and internationally-respected health care facilities within a short drive from our area. Just three hours away are the medical centers at the University of North Carolina in Chapel Hill and Duke University in Wake Forest, North Carolina.
Brunswick Community Hospital
Brunswick Community Hospital (BCH) on Hwy 17 near Supply, operates a 60-bed acute care facility and provides a wide range of comprehensive medical and surgical services. Brunswick Community Hospital is accredited by the Joint Commission on Accreditation of Healthcare Organizations (JCAHO) and has been in service to the community since 1977 . The nearly 400 employees and 80 plus physicians and specialists provide services including mammography, obstetrics and gynecological care, nuclear medicine, CAT scans, EEG, EKG, emergency services, endoscopy, intensive and coronary care, MRI, orthopedic treatment, gastroenterology, pain management, neurology, podiatry, speech pathology and audiology. The hospital also provides surgical services including outpatient, general, orthopedic, eye, urological, vascular, plastic and reconstructive, and ear, nose and throat. Brunswick County's projected population growth has allowed the Hospital to receive approval from the State of North Carolina to add an additional 32 beds. Plans for this expansion of services are being developed.
1 Medical Center Drive
Supply, NC 28462
Telephone: 910-755-8121
www.brunswickcommunityhospital.org
Brown-Harris Laser Eye Care
(910) 796-8600
www.brownharrislasereyecare.com
Cape Fear Orthopaedic Specialty Center (New Hanover Health Network)
Telephone: (910) 452-8100
www.nhhn.org
Coastal AHEC Clinics (Coastal Area Health Education Center)
Clinics and their contact information in the southern coastal area of North Carolina.
Telephone: (910) 343-2180
www.library.ncahec.net
Coastal Family Medicine (New Hanover Health Network)
Telephone: (910) 763-5522
www.nhhn.org
Coastal Reproductive Endocrinology & Infertility Center (New Hanover Health Network)
Telephone: (910) 815-5190
www.nhhn.org
Dosher Memorial Hospital
J. Arthur Dosher Memorial Hospital in Southport offers acute and skilled nursing care including nursing home and rest home care. Supported by a tax district covering Smithville Township, the hospital opened in 1930. It is accredited by Joint Commission on Accreditation of Healthcare Organizations and overseen by a publicly elected board of trustees.

924 N. Howe Street
Southport, NC 28461
Telephone: 910-457-3800
www.dosher.org
Independence Rehabilitation Center (New Hanover Health Network)
Telephone: (910) 342-3270
www.nhhn.org
NC Dentists Directory (Dentistryweb.net )
www.dentistryweb.net/NC
NCAFC Clinic Directory (NC Association of Free Clinics )
A Free Clinic is a private, nonprofit, community-based organization that provides medical care at little or no charge to low-income, uninsured and underinsured persons through the use of volunteer health care professionals and partnerships with other health providers.
Telephone: (336) 251-1111
www.ncfreeclinics.org
North Brunswick Family Medicine (Wilmington Health Associates)
Telephone: (910) 371-0404
www.wilmingtonhealth.com/nbrunswick.html
Pediatric Specialty Services (New Hanover Health Network)
Telephone: (910) 343-7001
www.nhhn.org
Podiatric Physicians (NC Foot and Ankle Society)
Telephone: (919) 872-2224
www.ncfootandankle.org/physicians3.htm
Wilmington Health Associates
Telephone: (910) 341-3300
www.wilmingtonhealth.com
Wilmington Treatment Center (CRC Health Group, Inc.)
Telephone: (877) 762-3750
www.wilmtreatment.com
Women's Health Specialties North (New Hanover Health Network)
Telephone: (910) 815-5190
www.nhhn.org
Women's Health Specialties South (New Hanover Health Network)
Telephone: (910) 815-5011
www.nhhn.org
Women's Services (New Hanover Health Network)
Telephone: (910) 343-7000
www.nhhn.org
South Carolina Healthcare
Conway Hospital
300 Singleton Ridge Road
Conway, SC 29526
Telephone: 843-347-7111
www.conwayhospital.com
Grand Strand Regional Medical Center
809 82nd Parkway
Myrtle Beach, SC 29572
Telephone: 843-692-1000
www.grandstrandmed.com
Loris Community Hospital
3655 Mitchell Street
Loris, SC 29569
Telephone: 843-716-7000
www.lorishealthcaresystem.com