Brunswick Islands-
The Jewel of the North Carolina Coast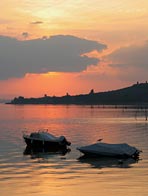 The jewels of the pristine coastline of North Carolina, the Brunswick Islands, are attracting families from all over the country in record numbers. They may come for vacation, retirement, or a new beginning, but they all have one thing in common—they are looking for a relaxed beach lifestyle.
Conveniently situated between historic Wilmington, North Carolina and exciting Myrtle Beach, South Carolina the Brunswick Islands' uncrowded, white-sugar sand beaches and the agreeable climate offer visitors relaxation, gorgeous vistas, and a myriad of water activities.
The five islands composing the Brunswick Islands—Baldhead Island, Holden Beach, Ocean Isle, Oak Island and Sunset Beach—are recognized for their pristine, family oriented beaches. The warm water temperatures (reaching to 80 degrees in the summer) attract surfers, sunbathers, SCUBA divers, and other water enthusiasts from all over the country. The ocean, intracoastal waterway, and network of rivers and tributaries teaming with wildlife offer excellent fishing, kayaking and boating to adventurous and active visitors. Take your boat or a hire a charter and fish for mackerel or tuna, paddle up the winding and serene waters of the Shallotte River, or bird watch for Egret on Bird Island.
There is more to the Brunswick Island than just beaches. The numerous championship golf courses, nature areas, restaurants and historic sites and museums appeal to a variety of interests and tastes. Take a day trip to Southport and explore the quaint and eclectic artist studios and shops that give Southport a metropolitan flare, while maintianing its small town appeal. Drive minutes to Calabash for a quiet dinner and enjoy some of their outstanding seafood cuisine.
As one the fastest growing counties in North Carolina, Brunswick County is experiencing tremendous change and growth. The increasing interest and demands on housing created from families relocating and retiring to the area have produced rising costs for property and the disappearance of the best property. In light of the changes that Brunswick County is currently experiencing, you will save yourself a consider amount of money by acting soon. Take the time and visit this beautiful area and secure your piece of paradise.